Green Tea Cheesecake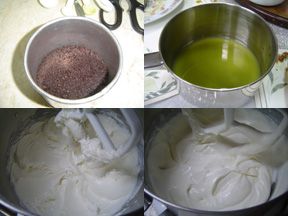 Liza has turned me into a green tea fanatic.
I have been obsessed with this flavor ever since. When we went to China, I would "oooh" and "aaaaah" over the green tea pastries and drinks they had. In fact, I bought green tea milk tea, green tea walnut biscuits, green tea mini snacks (like buchi but different texture). And if Starbucks' green tea frapuccino wasn't so darn expensive, not to mention fattening, I would probably be drinking it everyday.
So I was so happy to find this recipe in Food Magazine's April 2005 issue. It's by Dorothy Ferreria, one of my favorite chefs. It's a no-bake cheesecake, so it's an easy recipe. My comments are in red. :)
Ingredients:
For the crust:
6 T butter
3/4 C crushed chocolate-flavored graham biscuits
For the cheesecake:
1 1/2 t green tea powder
3/4 c water, divided
2 T unflavored gelatin
1 225 gram cream cheese
3 c all purpose cream
1/2 c white sugar
green food color (optional)
For the topping:
1/2 c all purpose cream, well chilled
2 T powdered sugar
bittersweet chocolate curls or shavings
Make the crust:
Line the bottom of eight 3-inch stainless /PVC rings with foil. Line the sides with acetate film. Arrange prepared molders in a tray. Set aside.
I used only five 3-inch removable bottom pans. And with the crust recipe, I felt that the crust was too "wet." So I added around 4 tablespoons more. You can add in more (or less) if you want. Just make sure that the crust is still wet enough to hold together.
Melt butter in a heavy saucepan. Add crushed biscuits and blend well. Divide the mixture equally among the prepared molders. With back of a teaspoon, press the crust against the foil lining to form a solid crust for the bottom. Set aside.
Make the cheesecake:
In a small saucepan, disperse green tea powder in water. Mix well and place over low heat until the powder blends with the water. Measure 1/2 c of the mixture and transfer to another saucepan. Stir in gelatin and allow granules to swell.
I couldn't taste the green tea flavor for the first batch I made, so I added more until I completely ruined the cheesecake mixture. For my 2nd batch, I used
1 1/2 tablespoons
green tea powder and even steeped some green tea leaves in the green tea powder-water mixture. Still, the green tea taste wouldn't come out. I'm not sure if it was because the powder I used was a green tea powder with sugar type. I would suggest you use something stronger when you're making this.
Cook gelatin-green tea mixture over low heat until the gelatin dissolves completely, taking care that the mixture does not boil. Set aside.
With an electric mixer, beat the cream cheese until fluffy. Pour in all-purpose cream and the sugar. Beat until smooth. Pour in the gelatin solution and continue to beat until blended. Enhance with green food color if desired.
Divide the mixture equally among the prepared molders. Freeze or chill until firm. When ready to serve, unmold the cheesecakes to a platter and top with whipped cream and chocolate shavings.
Make the topping: Beat all purpose cream and sugar until it somewhat doubles in volume. Transfer the mixture to a pastry bag fitted with an open star tip. Use to pipe topping on the cheesecake.
This is a good basic cheesecake recipe, and it's very simple to make. If you really want the green tea flavor to come out, use a stronger green tea.